Farmers' Market Tour & Cooking Class
(4.5 hours)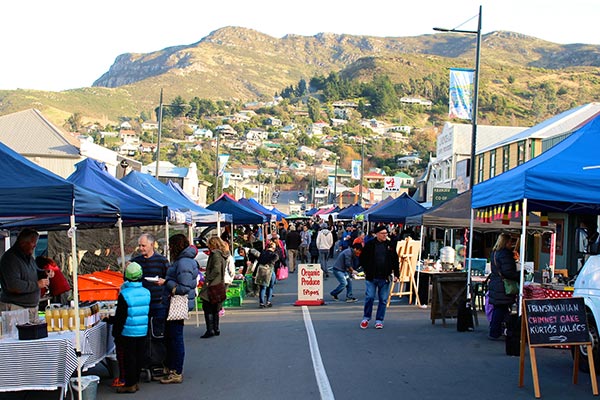 Days: Saturdays
Both locals and visitors will love this tour, which includes visits to Christchurch's two best farmers' markets in one morning. We will provide an entertaining tour around the markets, introducing you to some of the best local produce and food products, and then returning to Ground in Lyttelton to learn how to use them in unique recipes.
Our first market, the Christchurch Farmers' Market, is set in the beautiful grounds of Riccarton House. This historic mansion provides a stunning backdrop for this bustling market, and you'll have time to explore the house and grounds, including one of the only remaining remnants of native forest in the city. You will meet various stallholders and taste a huge range of products. We dare you not to top up your bag with other homemade goodies.
Next we take you to Christchurch's original, longest-running farmers' market in Lyttelton. The whole main street of this harbourside town is closed every Saturday to make way for the market, where local musicians provide a festival-like atmosphere. Again you will meet the producers behind the meats, cheeses, fish, breads, smallgoods, spices, wines, beers and more. Don't forget the delectable snacks for the dog!
After the market visits, we return to Ground for a cooking class, using the local produce and other ingredients that you've gathered. Jenny will introduce you to some new and special recipes that are simple but spectacular. These are real dishes you can make at home - especially now that you know where to find the ingredients!
At the end of your tour, there is the option to relax with a five-course degustation lunch with matching wines at Roots Restaurant, named restaurant of the year in 2015 by Cuisine Magazine. This is an unrivalled dining experience, where chef Guilio uses foraged, local and in-house ingredients in different and unexpected ways. Additional cost for lunch and matched wine is $110.
This tour begins at 9:00am in Lyttelton (or contact us to provide a pick-up at your accommodation) and will finish at approximately 1:30pm. The optional lunch at Roots begins afterwards and can stretch as long as you want!
Inclusions:
Personalised tour of Christchurch's best two farmers' markets (max 6 guests)

Return transport from Lyttelton in comfortable vehicle (pick up and drop offs can be arranged upon request)
Ground cotton shopping bag
Sample a range of local produce and food products
Learn how to use local foods in range of unusual dishes (recipes included)
Comprehensive list of all our recommended Christchurch cafes, restaurants, global food shops and producers
Optional: gourmet five-course degustation lunch with matching wines (additional cost)
Price: $125.00
(incl. GST)
[ click on the thumbnails below to view large images ]
This page was last modified on: 22 Sep 2016 05:16:05
---